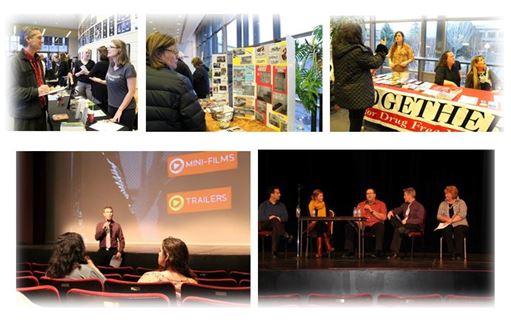 Are you wondering how to begin planning your community screening of Who Cares About Kelsey? The Wenatchee School District—along with partners TOGETHER! For Drug Free Youth, Wenatchee Learns, Children's Home Society of Wenatchee, NorthWest PBIS, & Stemilt Growers—held, what can only be described as, the "epitome" of community screenings on March 4, 2014 at the Performing Arts Center of Wenatchee. Read the blog post by the Wenatchee School District to see an example of how a community screening of the film can be used as a catalyst for community dialogue and positive change:
"Members of the Wenatchee community gathered together last night to watch a movie that examined a troubled life and offered hope for teens, families and educators. The film, "Who Cares About Kelsey?" was about Kelsey Carroll, a struggling high school student whose tumultuous life included homelessness, sexual abuse and ADHD. Kelsey's goal was to graduate from high school, yet as a freshman she earned no academic credit and was suspended for dealing her own prescription drugs to classmates at school. In 2005-2006 — Kelsey's freshman year — her school, Somersworth High School, had one of the highest dropout rates in New Hampshire.
In the fall of 2006 Somersworth High adopted a system called Positive Behavioral Interventions and Supports (PBIS) and a youth-directed planning process called RENEW (Rehabilitation, Empowerment, Natural supports, Education and Work) for students like Kelsey with intensive needs. Staff, students, parents and administrators began to see a transformation that was illustrated in the film by Kelsey's high school journey. By 2008-2009, the dropout rate at Somersworth High School was reduced by 75 percent and discipline referrals by 60 percent. Kelsey graduated from high school, and has since presented on behalf of the film at more than 60 conferences and events, in 17 states, and for more than 10,000 people. She is attending college to become a school counselor.
While "Who Cares About Kelsey?" is a personal success story, it is very much a film about the success of the PBIS system of behavioral intervention, a program some schools in Wenatchee School District are adopting. PBIS and the RENEW programs were shown in the film as a structured approach to promote positive relationships and positive behavior with encouragement and support for struggling students.
Last night's movie showing was framed by a pre-screening gathering of social agencies to share information and a panel discussion after the film to talk about topics raised in the film. The panel discussion, moderated by Renee Hunter, Executive Director of TOGETHER! For Drug Free Youth, summarized panel member's ideas about the film and answered questions from the audience. Panel members were psychologist Dr. Patrick Carrello, Columbia Valley Community Health; Kristi Karpanko, Director Child & Family Counseling Program, Children's Home Society; Rick Stillwaugh, Program Manager Youth Department, The Center for Alcohol & Drug Treatment; and Kory Kalahar, Principal, Westside High School.
Among topics discussed, panel members agreed that the film recognized the power of empathy, compassion, and teamwork. They said that ultimately, "Who Cares About Kelsey?" conveyed a message of healing and hope."